Throughout our modern society, few industries have grown as fast as the air travel industry. Whether you wish to hop on a plan for a quick excursion or travel the world, air travel is the top mode of transportation throughout all industrialized nations. However, as the concentration of air travelers increases so does the threat of malicious organizations. In order to increase the safety of all airports throughout the United States, the demand for highly trained and high-quality airport security guards is ever-growing.
If you're interested in a fast-paced, ever-evolving career within the security industry, then you should consider a position as an airport security guard. While this career choice is constantly changing to meet the safety and security demands of major transportation hubs, the job requirements and functions are universal across all airports and all security positions. There are many online security guard training options and resource guides for those looking to work airport security.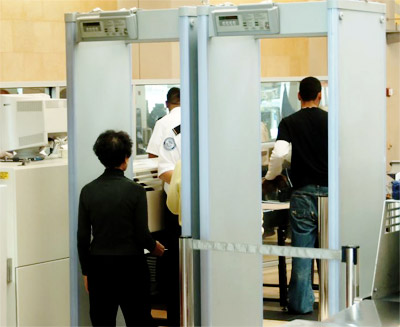 It is important to note that the Aviation and Transportation Security Act required all passenger screenings to be conducted by Federal employees. Since November 2002, the Transportation Security Administration (TSA) conducts all screenings for both passengers and their luggage. The TSA is part of the Department of Homeland Security. These vary vastly from general airport security guards, but all are important to the safety and security of our nation's airports.
Primary Responsibilities of an Airport Security Guard
Although exact job responsibilities will vary based upon your position and employer, airport security guards are primarily responsible for:
Following airport guidelines to cultivate a safe environment for passengers
Operate X-ray Equipment
Search passenger belongings according to airport and TSA guidelines
Verify passenger clearance by cross-checking passenger tickets with government-issued photo identification
Working with the regional airport security agency along with federal agencies to implement higher security processes based upon current threat levels
Secondary Responsibilities of an Airport Security Guard
The exact daily responsibilities and tasks for an airport security guard can greatly vary from day to day as well as from airport to airport. This being noted, there are several universal secondary responsibilities most airport security guards are responsible for undertaking throughout their shift. These include:
Monitoring passenger and employee activity throughout their designated sections
Logging foot traffic within their department and ensuring only authorized personnel access restricted zones
Communicating passenger activities with fellow security guards and security directors
Writing daily security reports for management and police should an incident occur
Necessary Skills for Airport Security Guards
As with any security guard position, in order to excel at this career you must first and foremost hold solid communication skills. Because this job can be mentally and physically demanding, the most successful candidates are those capable of working well under pressure while maintaining an acute awareness of their surroundings. Information recall and relaying of vital happenings throughout their section is imperative when determining security risks or evaluating potential hazards. Above all else, the most successful airport security guards are those capable of paying attention and adjusting their focus as unique and unexpected situations arise.