To become a security guard, you must possess keen eyes, agility, and a talent for working with people. In many states, however, you must possess a specialized security qualification card.
GUARD Card
For California candidates, security guard training also requires that the individual take another 16 hours of professional training, consisting of choosing two of four offered mandatory training courses, within the first 30 days of hire and then 16 additional hours of training within six months. These requirements allow you to be an unarmed security guard. To obtain specific authorization to yield a baton or hold a firearm, additional coursework and state requirements must be met.
To be able to apply for a security guard position in California, the aspiring candidate must apply for GUARD card. A guard card is only issues to individuals who have passed the basic 8 hour training security course, taught by a qualified instructor. You must also have taken and passed a qualifying exam.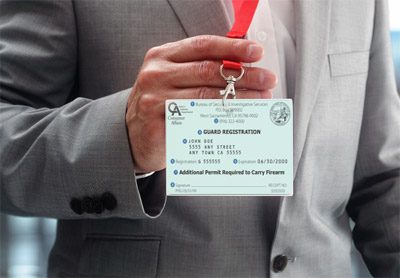 The 8 hour course consists of fundamental topics that are crucial for working as security professional, such as Power to Arrest and Terrorism Awareness. Successful completion of these requirements allows the person to be hired in a guard position; however, more training is required to be registered as a professional security guard. In addition, all applicants must be over 18 years old and pass a background check to obtain a GUARD CARD.
GUARD card coursework can be taken at a physical location or online. Many candidates opt for online instruction due the ability to learn at home without distractions as well as fit the coursework around their busy work schedule.
PERC Card
In Illinois, to become eligible to become a security guard, the candidate needs to obtain a PERC card. The acronym stands for Permanent Employee Registration Card. To obtain a PERC card, the individual must be at least 18 years old, possess a valid ID and social security number, and submit to a background check by having their fingerprints scanned and analyzed. There are 20 more hours of coursework required, concerning subjects applicable to the security guard's employment specialty. Like California, the mandatory coursework is also available online. Passing these requirements allow you to work as an unarmed security guard.
Before applying for work as a security guard, it is imperative to see what type of qualifications and/or type of card you must hold to be employed in this important profession.